MESSE ESANG's optimized exhibition infrastructure, data management and processing platform are the foundations of growth and expansion of exhibition industry. It collects and retains diverse data through IT technology-based admission and registration systems, exhibition DB management systems, and processes public data, statistics, industrial trends, social and other industry, business, and customer interest data, and applies them to exhibition planning and marketing.
We are a data aggregation and processing service provider, designated by Korea Data Agency under the Ministry of Science and ICT. We provide data analysis service to SMEs who lack the expertise and are challenged by the high cost associated with acquisition and processing of data.

Application in Exhibition Related Businesses
Exhibition Venue Operation (after)
We efficiently manage data generated from diverse exhibitions.
We lead the growth and innovation in the traditional exhibition industry through integrated operation strategy. In addition, we draw insights through integration of company's internal data with external marketing, sales, CRM and other data points.
1st Stage: Application of Data Management System
– Development and operation of FMS with industry-specific data systems and management systems
2st Stage: Exhibition Planning and Operating through Processing On/Offline Data + Internal/External Data
– Operation of planning centers and conferences through analysis of industry trends by year
3st Stage: Marketing through Internal/External Processed Data
– Increase in no. of visitors: Concentrate on marketing and discover customer's interest through social data analysis
– Growing into the effective advertisement/ marketing platform: Transition offline exhibition into online exhibition. → Activate online exhibition through O2O strategy → overcome periodical/regional limits of the exhibition.
※5 Year Average Growth Rate (CAGR) 14.91%
Data-based Exhibition Results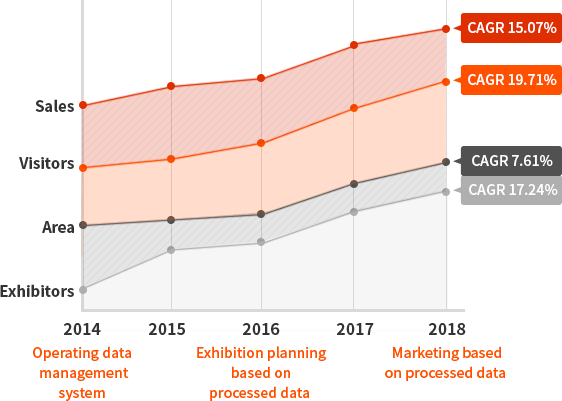 3. Data Analytics Capability
1) Data Processing
Optimize raw data through various technical methods applied to data analysis and service development
#01


Preprocessing

#02


Quality

#03


Coating

#04


Visualization

#05


Extracting information or Compound

#06


Tagging, Labeling

#07


Analysis
2) Online Data Collection System " ES scrapper"
Real-time data collection by source (social community, media, etc.) and keyword structure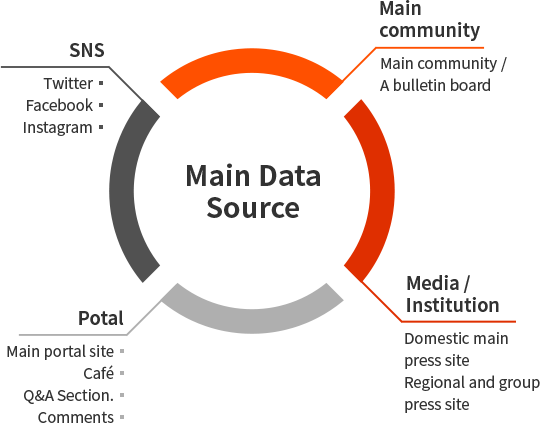 System diagram of ES scrapper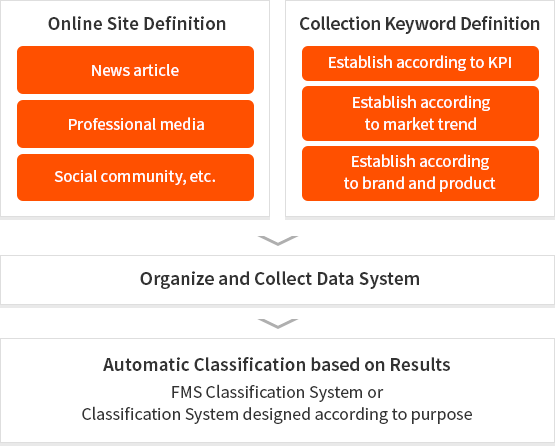 3) Self Developed Data Structure and Processing Hub System "FMS"

Classification System and Data of Domestic Industry
It consists of industry data classification system such as category, company, brand, and representative products by industry, and customer interest classification system and data that can define customer profile such as age, gender, and address.
Hub platform that connects and expands external data (public/private) by processing data with companies, customers and exhibitions
18 Industries
Construction/Building Materials
Real Estate
Surface Processing
Coating
HVAC
Environment
Interior/Design
Handmade
DIY
Hotel
Agricultural Technology
Leisure
Regional Special Products

Baby
Pet
VR/AR
Medical
Security/Policy
Promoted by the Ministry of Science and ICT and carried out by Korea Data Agency, it is voucher service that provides financial support for purchasing and analyzing data.
The main objective of this service is to galvanize domestic data trading activities and create data-based ecosystem through activation of data and AI industries
MESSE ESANG is a designated service provider of data collection and processing services to selected companies with data vouchers.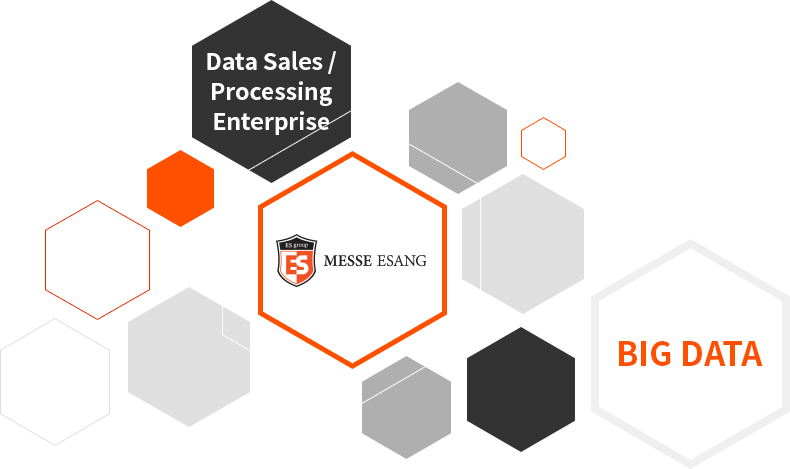 Support Targe
Domestic SMEs (including startups), small businesses, and one-man companies that can use data to create innovative services

Support Scale
– Total of KRW 300 billion for 5 years (KRW 60 billion in 2019, composed of KRW 20 billion won for data procurement vouchers, KRW 40 billion for data processing vouchers)
– Support 1,000 data purchases and 640 data processing services (400 general, 240 AI) annually

Support Section
– Data Procurement: Support data purchase costs with vouchers for participating companies to upgrade services or develop new services thru the use of data (Government subsidy matches up to KRW 18 million per project / Government 75%: Private 25%)
– Data Processing: Support data processing costs with vouchers to utilize the data for customized applications for each company
(Government subsidy matches up to KRW 45 million for general processing and KRW 70 million for AI processing / Government: 75%, Private 25% )

Support Procedure
Recruit suppliers that can provide data sales and processing services, and select and support companies that utilize data through public offering.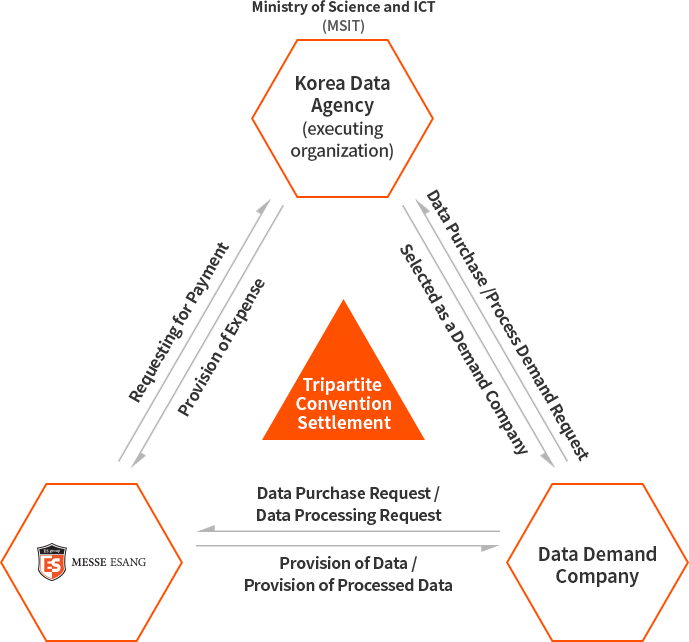 | | |
| --- | --- |
| Division | Major Roles |
| Ministry of Science and ICT(MSIT) | (Project Organizer) Head of Data Voucher Business |
| Korea Data Agency | (Administrator) Management agency for Data Voucher Business |
| MESSE ESANG | Selling or processing data to demanding companies |
| Demanding company | SMEs seeking to create data-driven innovation services by receiving data from data sales and processing companies, etc. |
QUERIES : Tel. 02-6121-6490